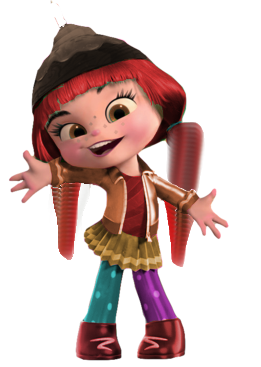 "A RedHead HERE!"
-Adele's main speaks.
Adele Sweetpeanuts is a redhead girl. She is really funny and loves her younger twin sister Jeniffer Sweetpeanuts. She is a anonymous racer, and she is Taffyta's new victim and Lucy Macaroon's old victim. But sometimes Void von Schweetz protect her. She is super adventurous, and when the arcade closes she takes her time to train the speed of her car and always challenges Taffyta to a rift. She is also a glitch, but it has the option to exit the game and rarely give tilt.
Biography
Adele is happy, lively and entertaining. She is simply adorable.
Status
Sweetness: 100%
Handling: 100%
Special Power: Colored Speanuts Sugary Bomb
Trivia
The name given to her was "Pinkie Pie" to be animated like her.
She is Candlehead recolor.
Her sister is not a racer.
She does not have a number and neither does her kart have one, so she is a glitch.
Gallery
Names In other Languages
Language
Name
Meaning
Brazilian Portuguese
Adéle Pé-De-Moleque
From "pé-de-moleque" (Chikki)
Japanese
アデーレ スウィートピーナッツ

Adēre suu~ītopīnattsu

From English name
Ad blocker interference detected!
Wikia is a free-to-use site that makes money from advertising. We have a modified experience for viewers using ad blockers

Wikia is not accessible if you've made further modifications. Remove the custom ad blocker rule(s) and the page will load as expected.