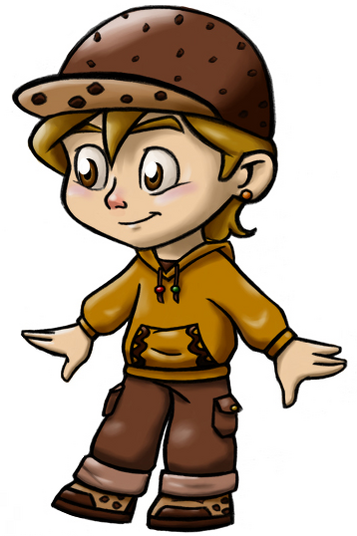 Adreemond Chocomello is a rich and spunky racer in Sugar Rush. His candy themes are chocolate ice creams, the candy Chips Ahoy, M&M's, caramel and etc. This page has been created by the user Toffetia123, but all the credits belongs to the deviantart user "Adri-Gummi". His kart signature is the "Kartmel".
Biography
Adreemond is the most famous skier in Sugar Rush. He's the Vanellope's best friend. His parents are famous for working alongside the princess. He and Rancis Fluggerbutter are frenemies. He the fastest in the race, but he can't control his kart, in the part of the time.
Status
Speed: 90%
Sweetness: 85%
Handling: 50%
Special Power: Pop Cakes
Trivia
He won more than 5 trophies
His original name would be "Nutterly Butterscoop", but the creator thought it would not be a good name
Gallery
Names in other Languages
Language
Name
Meaning
Danish
Slikolade
From "slik" (candy) united with "chokolade" (chocolate)
Dutch
Keeuwkje Karamijs
From "koekje" (cookie) united with "sneeuw" (snow) and "karamel" (caramel) united with "ijs" (cold)
French
Renaud Chocomello
Don't have meaning
Japanese

アドリーモンッド チョコメロー

Adorīmonddo chokomerō

From English name
Brazilian Portuguese
Fredericolate Caramelo
From "caramelo" (caramel)
Russian
Адриымондь Мароже
From "Адриымондь" came from original "Adreemond" and "Мороженое" (ice cream)
Ukrainian
Пончіска Глазурели
From "пончики" (donuts) and "глазур" (icing)
Ad blocker interference detected!
Wikia is a free-to-use site that makes money from advertising. We have a modified experience for viewers using ad blockers

Wikia is not accessible if you've made further modifications. Remove the custom ad blocker rule(s) and the page will load as expected.