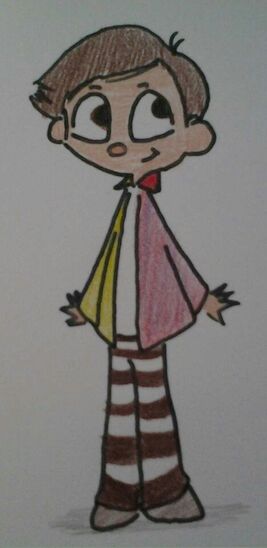 Aeroreo or just "Reeo" is a easy-going and the most funny guy in Sugar Rush that loves to make call pranks with the other characters in the arcade. His candy themes are the chocolate bar Aero, Oreos and the candy Zagnut and his kart signature in the Hot Chocomissile.
Biography
Aeroreo has a big interest in technology and mechanism. He is also Jeller's middle brother. He and his father Hulk, are very close. He's thinking to build his on track to train to the Race. He's is one of the friends of Hellboy, Galarettak's father. He has a big grandstand and more than 1500 fans.
Status
Speed: 75%
Sweetness: 60%
Handling: 50%
Special Power: Gumball Bomb
Trivia
His fans are antropomorphic Oreos and cereal bars.
His plush is Oreo scented.
His design and candy themes were based in his owner design and favorite candies.
Gallery
Names in other Languages
Language
Name
Meaning
Finnish
Suklääni Tahmanen
From "suklaa" (chocolate) and "tahmanen" (sticky thing)
Ukrainian
Тарті Батончекурка
From "торт" (cake) and "Батончик" (chocolate bar)
French
Aeroreo Religieause
From "Religieuse" (french dessert) 
Japanese

アエロレオ ゼィーッグナット

Aeroreo zīggunatto

From English name
Ad blocker interference detected!
Wikia is a free-to-use site that makes money from advertising. We have a modified experience for viewers using ad blockers

Wikia is not accessible if you've made further modifications. Remove the custom ad blocker rule(s) and the page will load as expected.