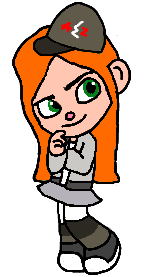 Amber O'Cream is Mark O'Cream's little sister. She loves to rap and be a cool dudette. She is best friends with Chewylina Em'O Nems. Her rival is Rochelle Fluggerbutter.
Amber and Mark
Amber loves Mark and thinks he rocks, but they sometimes get into brother and sister fights and arguments. Mark would do anything to protect his little sister, as they love each other and care about each other very much.
Gallery
Trivia
Her design was made by Wreck-ItEve105.
Ad blocker interference detected!
Wikia is a free-to-use site that makes money from advertising. We have a modified experience for viewers using ad blockers

Wikia is not accessible if you've made further modifications. Remove the custom ad blocker rule(s) and the page will load as expected.