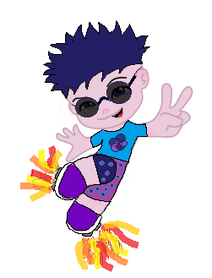 Asayee Juicyburst is a fanon character.
Character's Bio
Asayee is very active, always putting on pranks, and nasty jokes, that is why some of his friends get angry.
Idea
He is based on Acai Berry
Trivia
Acai Berries originated from Brazil.
Creation
Kart/s
Item/s
Stats
Handling - 85%
Candy Coating - 75%
Speed - 89.9%
Sweetness - 19.8%
Note
If You Have Any Reactions Please Do,
Comment Your Suggestions and Reactions :D Thank You Friends!
Gallery
Ad blocker interference detected!
Wikia is a free-to-use site that makes money from advertising. We have a modified experience for viewers using ad blockers

Wikia is not accessible if you've made further modifications. Remove the custom ad blocker rule(s) and the page will load as expected.