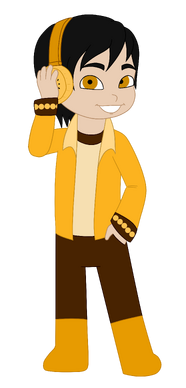 Banamothy Cremeswirl is a racer from Sugar Rush Reloaded and from the story's version of Sugar Rush 2. His theme is banana cream pie and his kart is the Amber Slicer. His personal track is Banana Mania.
Bio
Banamothy Cremeswirl: "Sweet Detective Work"
Banamothy is your typical polite and friendly guy who happens to be much smarter than he lets on. He is very analytical and observant and loves good old fashioned detective work. There's no race he can't win and no case he can't solve.
Appearance
Personality
Story
Kart
His kart is the Amber slicer.
Special Ability
Relationships
Theme
His theme is banana cream pie.
Trivia
His fans are anthropomorphic mini banana slices partially dipped in chocolate.
His name is a combination of "banana" and "Timothy".
Ad blocker interference detected!
Wikia is a free-to-use site that makes money from advertising. We have a modified experience for viewers using ad blockers

Wikia is not accessible if you've made further modifications. Remove the custom ad blocker rule(s) and the page will load as expected.