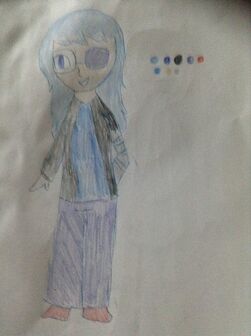 Blueberry BiMuffin is a new racer and a good friend with
Theresa Bakewell
 she gets easily bored,makes shady deals with people and then slams herself because nobody likes her except for Theresa Bakewell .
Bio
Blueberry BiMuffin: The Master of Roleplaying
"Blueberry BiMuffin really love roleplaying with people she likes but people doesn't like to roleplay with her because her roleplay character is very mean she gets really bored easily but even though people hates her she doesn't care but all she wanted is to do the right thing".
Quotes
Bluh.
I just wanted to do the right thing.
Au revoir.
You don't need to be a good guy to be a hero.
Hey stop reading books for girls! *to Loliboy Pop*.
Trivia
Her Bestfriend is Theresa Bakewell.
Her kart's name is Blueberry kart.
Her Theme is Blueberry.
She is based of Vriska Serket .
Her favorite number is 8.
She loves spiders.
Her desire is to make Sonia Cakella  to be stronger and combined with her complicated feelings.
Her Zodiac Sign is Scorpio (♏).
Theme Song
Gallery
Ad blocker interference detected!
Wikia is a free-to-use site that makes money from advertising. We have a modified experience for viewers using ad blockers

Wikia is not accessible if you've made further modifications. Remove the custom ad blocker rule(s) and the page will load as expected.