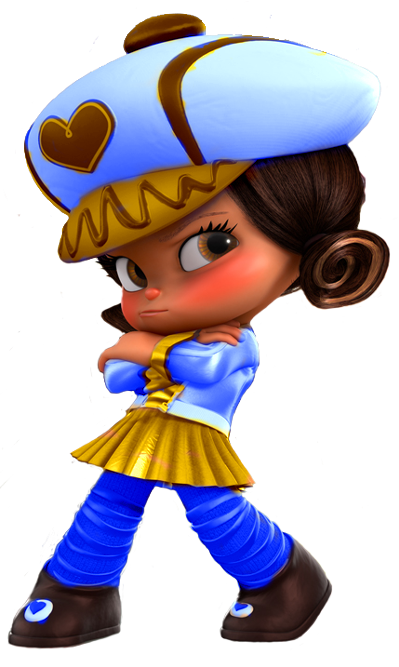 Cadbetty is a very proud racer,but at same time a bossy person. Her candy themes are around the candy Cadburry Cream Egg and Boston Baked Beans. The signature of her kart is the "Karterry". Her nickname is "Caddy". She has been created by the User Toffetia123.
Biography
She is a partner of the queen, and she is in love of Rancis. She and Torvald are frenimies. In race times she and Torvald are friends, but out of the race, both they hate each other. When she is bossy, she likes to make the marshmallows, change the leaderboard and put her in first place
When she is very proud of herself, she likes to please the other racers, giving chocolate and strawberry wrap candies. She leads her job very seriously.
Status
Speed: 70%
Sweetness: 40%
Handling: 55%
Special Power: Sticky Egg
Trivia
She unlockable in "Confectionery Raceway", by code, by her nickname:"Caddy".
Her original name is "Pecky Rumbeau".
Ice Brownkers and Cadbetty are second cousins.
She's a EsRr student, in the musical "Glitched".
Her fans are antropomorphic jellies and beans with caramel.
Gallery
Foreign Names
Danish
Frågteena

From "frugt" (fruit)

French
Maurdre Caramella
From "mordre" (to bite) and "caramel" has the same meaning
Japanese
カッドベティー クラックルービンーズ

Kaddobetī Kurakkurūbin̄zu

From English name
Brazilian Portuguese

Ovabetty Ao Leite

From "ovo de páscoa" (Easter egg) and "leite" (milk) 
Russian
Сладийканис Мятинна
From "Сладкий" (candy) and "мята" (mint)
Ukrainian
Кадбетті Камедонна
"Кадбетті" from original "Cadbetty" and "камедь"(gum)
Ad blocker interference detected!
Wikia is a free-to-use site that makes money from advertising. We have a modified experience for viewers using ad blockers

Wikia is not accessible if you've made further modifications. Remove the custom ad blocker rule(s) and the page will load as expected.