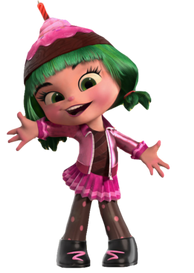 Candlehead
is a character from
Wreck-It Ralph
. She is one of the racers in
Sugar Rush
. She is voiced by Katie Lowes. She appears to be themed around birthday cake and ice cream.
Official Bio
Candlehead: Happy Hot Head
"Candlehead is a riot who is able to laugh at herself-even when she's the butt of the joke. Hypnotized by the flame atop her own head, she gets lost in a haze of Happy Birthdays. Sugar Rush and its daily races wouldn't be complete without Candlehead, but she's a few scoops short of a sundae."
Appearances
Candlehead appears as a playable and main character in Worldhead.
Official Stats 
Speed - 50%
Handling - 20%
Candy Coating - 40%
Sweetness - 55%
Gallery
Names in Other Languages
Language
Name
Meaning
Arabic
شمعيدينا
Shn-ma-ee-deena
From "شمعة" (candle) or "شمع" (wax)
Bulgarian
Свещулина
From just "свещ" (candle) or "свещ" (candle) united with "светлина" (light)
Chinese
蜡烛头
làzhú tóu
Candle
Croatian
Svjeæica
From "svijeća" (candle)
Danish
Kærtenold
From "kærte" (candle)
Dutch
Kandelara
From "kandelaar" (candlestick)
Estonian
Küünalpea
From "küünal" (candle)
Finnish
Kynttiläpää
From English name
French
Adéle Machandelle
From "ma chandelle" (my candle)
Hungarian
Pirománc
From "piromán" (pyromaniac)
Icelandic
Kertishaus
From "kerti" (candle) and "haus" (header)
Japanese
キャンドルヘッド
Kyandoruheddo
From English name
Korean
캔들해드
Kaendeulhaedeu
From English name
Latvian
Svecīte
From "sveces" (candles)
Norwegian
Stearinhue
From "stearin" (candle wax)
Polish
Galaretta
From "galareta" (jelly)
Brazilian Portuguese
Velusca
From "vela" (candle) united with "velocidade" (speed) or united with "luz" (light)
Romanian
Luminița
From "lumini" (lights)
Russian
Кренделиза Айс
From "Крендель" means (pretzel) and "Айс" is a transliteration of "Ice"
Slovak
Tortulka
From "torta" (tart/cake)
Slovenian
Sveéica
From "sveča" (candle)
Swedish
Ljushuvudet
From English name
Turkish
Mum Kafa
From "mum" (candle/candles) and "kafa" (head/headers)
Ukrainian
Желейка or Тістечка
From "желе" (jelly)/ From "тістечка" (pastry/cakes)
Ad blocker interference detected!
Wikia is a free-to-use site that makes money from advertising. We have a modified experience for viewers using ad blockers

Wikia is not accessible if you've made further modifications. Remove the custom ad blocker rule(s) and the page will load as expected.