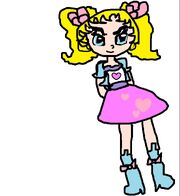 Candy Vanillabutter 
is a Sugar Rush character. She's the daughter of Vanellope and Rancis and the sister of 
Annie Vanillabutter
, 
Patty Vanillabutter
 and 
Susanna Vanillabutter
 in a near future date. When Rancis has abandonment the family, like Vanellope, she's herself furious with Rancis and she gliding commit suicide. But, when Vanellope and Rancis him explain all the case, she's declare peace with Rancis.
Trivia
She's the modern version of Candice White Ardley of Candy Candy, the anime in her it's the protagonist.
She is the first princess of Sugar Rush, because Vanellope has now the queen of Sugar Rush, but, like's the description of Candy Candy: "She's hate being a wealthy woman with dresses and lots of money" for this case, Candy prefer simple clothes
She's dreaming to being an warrior princess
She loves killing Cy-bugs in Hero's Duty
Ad blocker interference detected!
Wikia is a free-to-use site that makes money from advertising. We have a modified experience for viewers using ad blockers

Wikia is not accessible if you've made further modifications. Remove the custom ad blocker rule(s) and the page will load as expected.