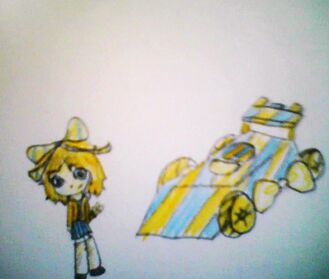 Cheezilna Berrycream is a racer made from User:Ann Swamitran. She is based on blueberry cheesecake. Her kart is called "Truffleam",
Official Bio
Cheezilna Berrycream: Curtis And Cheese Mix!
This girl mabe looking alot not her candy, but she is like it. She loves to hum along when she passes with her kart in Cakeway. And the racers consider her the Cream Hummer.
Apperance
Cheezlina is a girl with yellow and blue pale skin. She wears a tied bow and has big, emerald blue eyes. She wears a shiny golden jaket with a cream shirt and a pale blue skirt, and meruinge leggings to complete her look.
Trivia
Her twin is Cheeslina Berrycream.
Her bestie is NOBODY.
The time she is the happy is when Gloyd is filled with satisfaction.
She is Taffyta's friend, but they do not hang out all the time.
Ad blocker interference detected!
Wikia is a free-to-use site that makes money from advertising. We have a modified experience for viewers using ad blockers

Wikia is not accessible if you've made further modifications. Remove the custom ad blocker rule(s) and the page will load as expected.