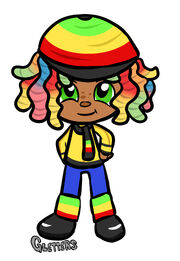 Chewbert Gumberdale is a Fan-made Character. 

He was created by 

Gletters

 .
Backstory
Chewbert was brought into the land of Sugar Rush by a system upgrade introducing him as a new character option.
General Bio
Chewbert is a polite young racer. He never gets angry and rarely raises his voice.
He enjoys challenging himself, on the racetrack or otherwise. His favorite past-time is creating an obstical corse for himself. He enjoys meeting new friends and helping his friends.
Ad blocker interference detected!
Wikia is a free-to-use site that makes money from advertising. We have a modified experience for viewers using ad blockers

Wikia is not accessible if you've made further modifications. Remove the custom ad blocker rule(s) and the page will load as expected.