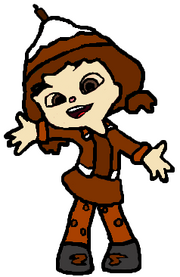 Chocohead is a refined and gorgeous girl. She is a recolor of Candlehead. Her candy themes are assorted chocolate candies. She also loves to use jewels in party clothes. Her kart signarture is the Chocoboost. She has been created by the user Toffetia123, but all the image design credits goes to the user Wreck-ItEve105. 
Biography
Chocohead is very refined. Her family is very rich and busy. Chocohead is also very gorgeous, she also won more than 5 Beauty Contests. Her stats shows a girl very sweet, but not very fast.
She's very famous by her fantastic way to be a lady, so, every time that she appears, you need to use the red carpet.
Status
Speed: 90%
Sweetness: 100%
Handling: 50%
Special Power: Chocolate Missiles
Trivia
Her plush is cacao scented.
Her fans are antropomorphics Brigadeiros (brazilian birthday dessert).
She is a recolor of Candlehead and also, Candlehead's sister.
Gallery
Names in other Languages
Language
Name
Meaning
Finnish
Suklääpää
From "suklaa" (chocolate)
Polish
Kakaolaretta
From "kakao" (cacao)
French
Adéle Chocoladelle
From "chocolat" (chocolate)
Japanese

チョコヘッド

Chokoheddo

From English name
Brazilian Portuguese
Chocolesca
From "chocolate" (has the same meaning) and "lasca" (chip)
Russian
Шокколиза Айс
From "шоколад" (chocolate) and "Айс" is a transliteration of "Ice"
Ukrainian
Какайска
From "какао" (cacao)
Ad blocker interference detected!
Wikia is a free-to-use site that makes money from advertising. We have a modified experience for viewers using ad blockers

Wikia is not accessible if you've made further modifications. Remove the custom ad blocker rule(s) and the page will load as expected.