Chocolate Gardens is a race track in Sugar Rush in the Choco Valley. The Track is owned by Coco Wispa despite being a race track, it's also a tourist attraction.
Track Route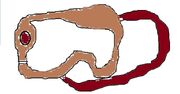 Info
It is a huge garden in Sugar rush filled with chocolate coated apple trees and plants, a big fountain that sprinkles dark chocolate and beautiful white chocolate flowers to see.
Ad blocker interference detected!
Wikia is a free-to-use site that makes money from advertising. We have a modified experience for viewers using ad blockers

Wikia is not accessible if you've made further modifications. Remove the custom ad blocker rule(s) and the page will load as expected.