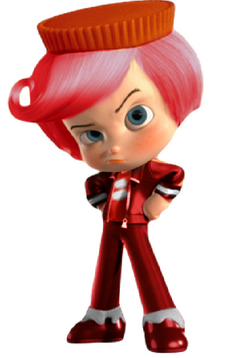 Chocolattie Mcspringle Bittershmallow is another recolor of Rancis Fluggerbutter. He is very rich, but very finicky. He sometimes is very unbred, by his finicky way to think. His candy theme are chocolate, milk, marshmallow and sprinkles. His kart signature is the "Sprocket Marshrush".
Biography
Chocolattie Mcspringle Bittershmallow has too much candy themes, because his family has too much kindreds with too much different candy themes. Some kindreds preferred that he had marshmallow themes or chocolates, sprinkles and too much options. But to not cause a confusion, he chose unite all the candy themes. His Sugar Rush kart boost is very fast and too much sweet.
Status
Speed: 55%
Sweetness: 70%
Handling: 70%
Special Power: Sugar Blender
Gallery
Foreign Names
Danish
Konfælkker

From "konfekt" (confetti) united with "mælk" (milk)

French
Chokkaleton Ban-Bonnie Guilaurme
From "chocolat" (chocolat),"bon-bon" (candy) and "guimauve" (marshmallow)
Japanese

チョーコラティー マックスプリングルー ビターシュマロ

Chōkoratī makkusupuringurū bitāshumaro

From English name
Brazilian Portuguese

Chocogularte Gelleninha Cremoso

From "chocolate" (has the same meaning),"geléia"(jelly) and "cremoso" (creamy)
Russian
Трюфелинно Молокакабэн
From "трюфель" (truffle) and "молоко" (milk) united with "какао" (cocoa)
Ukrainian
Шоколаттие ла Цикруккер
"Шоколаттие" from original "Chocolattie" and "з цукром" (with sugar)
Ad blocker interference detected!
Wikia is a free-to-use site that makes money from advertising. We have a modified experience for viewers using ad blockers

Wikia is not accessible if you've made further modifications. Remove the custom ad blocker rule(s) and the page will load as expected.