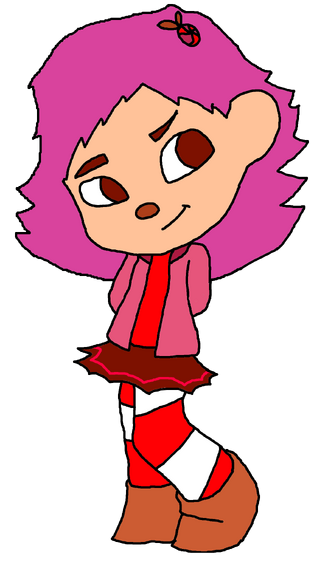 Cinnamonna McTwispper is a shy girl with a happy heart. Her candies themes are cinnamons and pepper-mints. Her kart signature is the Gummallow. Her nickname is "Fudgy".
Biography
Cinnamonna:Syrup Heart!
When she born, she dropped on cinnamon bucket, and she liked. She likes to play, but she hates to lose, even if it is a joke. She's in love with Gloyd. When she was 8 years-old, she loses her brother, when he was racing.
It was a hard time to her. To overcome the pain, she prometed to run to compensate for the victory of her brother.
Status
Speed: 60%
Sweetness: 90%
Handling: 75%
Special Power: Cinnamissile
Gallery
Names in other languages
Language
Name
Meaning
Danish
Kanellina
From "kanek" (cinnamon)
Japanese

シナモンナ マック トゥィスーパー

Shinamon na Makku to~u~isūpā

From English name
Brazilian Portuguese
Canelinha McGomas

From "canela" (cinammon) in diminutive and "goma" (gum)

Russian
Коричска Коффетий
From "kорица" (cinnamon) and "конфет" (confetti)

Hungary

Cukkora Édezéganig
From "cukor" (sugar) and "édesség" (candy)
Ad blocker interference detected!
Wikia is a free-to-use site that makes money from advertising. We have a modified experience for viewers using ad blockers

Wikia is not accessible if you've made further modifications. Remove the custom ad blocker rule(s) and the page will load as expected.