Citruela Lemonnygummz
is a
Sugar Rush Schweetzway
racer that is close with
Isabella Rainbowglitter
(works
closely too with Isabella). Her theme is lemonade, and she is similliar with
Candlehead
from
Sugar Rush
. She is the 3rd best known racer in
Sugar Rush Schweetzway
after Isabella.
Appearance
Citruela is a young sweet girl with fair skin (most of the racers' skin are fair skin) and blond very long hair like Rapunzel from Tangled, but Rapunzel has the longest hair than Citruela. Citruela wears a green jacket, yellow t-shirt, yellow and dark yellow skirt, green-yellow-and-teal shoes (include high socks). She also use a spiky teal cap to make herself pretty cool.
Biography
Citruela Lemongums: Not Spicy, but Sour!
"Citry doesn't seems so spicy at all, but she is sour just because her theme is lemonade. She likes sour things, of course, and doesn't like spicy things!"
Story
Candlehead realizes Citruela is really there in a sisters game, and Candlehead is the first racer who found "The Sour Girl". She and Candlehead are best friends, but she doesn't like Taffyta Muttonfudge alot. She is also good friends with Vanellope Von Schweetz. She and Citrusella Flugpucker may not like each other because Citrusella says that her name was stolen for Citruela name.
Citruela likes sour lemon and loves listening to a person's hand making a freaky sound on a glass. Isn't it sooo crazy?
Quotes
"Sweet mother of monkey milk! (Vanellope's quote was used by Citruela too) A sour lemon!!!!"
"I don't like her, too."
With Isabella: C: "You wanna hear something ... that freaky sound?" I: "Oh no no no no...." Freaky sound: NYEEEEKK!
"I hope makin' friends, not making enemies ga-doy!"
(Throws up lemonade) "Sorry, who?"
"Hey President of Sugar Rush!"
"SIGH!!!!!"
Race Kart
Citruela's racing kart is the Lemonade Screamer (the name is similliar to Candlehead's). Its shape is just like Candlehead's Ice Screamer Kart, but the colour is just like how Citruela looks.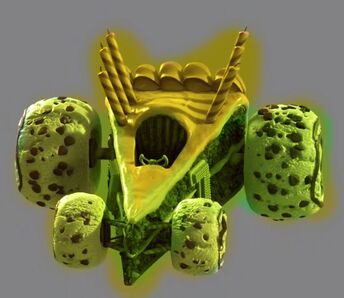 Trivia
Her kart's shape was planned to be like a lemon bottle, but it was nicer if she has a recolored kart.
She is created by VanellopeVonSchweetzFan.
Her old name is "Citry Lemongums"
Her pose is just like Candlehead's pose, but her smile wasn't like Candlehead.
Her name "Citruela" comes from Citrusella Flugpucker's name.
She and Citrusella Flugpucker may be enemies, also with Taffyta Muttonfudge.
Her kart looks like a kart that is made from yellow and green taffy, but the wheels are made from yellow birthday cakes.
Ad blocker interference detected!
Wikia is a free-to-use site that makes money from advertising. We have a modified experience for viewers using ad blockers

Wikia is not accessible if you've made further modifications. Remove the custom ad blocker rule(s) and the page will load as expected.