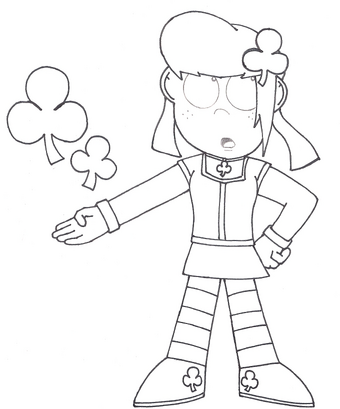 "My luck is nice and green."
Clover Shuffle is a young female cybernoid who always feel lucky when she feels Shamrock Green's affection. During St. Patrick's Day, she doesn't like to pinch others who's not in green. She is Heart's twin sister, who is a reformed villain and a member of The Deck of Aces.
Biography
Write the first section of your page here.
Trivia
In her special holiday card design it has a large green shamrock logo, but it does belong to Shamrock Green.
She is one of Holly-Polly's friend.
In Glacier Games, she's a figure skater from the Ireland team due to being a fan of Princess Icy.
She doesn't pinch anyone who did not in green clothes especially Ralph, Felix and others.
She will be voiced by Chika Sakamoto in the Japanese version.
She was mentioned to be a gymnast in Sugar Rush: Good Night Sleep Tight Racers. She appears as a trainer who teaches Minty Zaki how to walk on a balance beam without getting fall down.
Her last name is Shuffle.
Gallery
Ad blocker interference detected!
Wikia is a free-to-use site that makes money from advertising. We have a modified experience for viewers using ad blockers

Wikia is not accessible if you've made further modifications. Remove the custom ad blocker rule(s) and the page will load as expected.