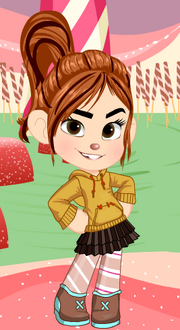 Cocoa Hershey is a Vanellope Von Schweetz recolor Even though she can get kind of rude, it's only to Rancis and Taffyda. Her three best friends are Minty, Swizzle and Gloyd. 
How She Came to Be.
Cocoa was added into the game with Bluearina Berrytop, a Jubellia Recolor, and Lolli Poppins, a Swizzle Recolor,via Event. 
Her Cart
As a racer, the cart really matters! Cocoa made her cart out of Chocolate Bon-Bons she had smashed with a Lollipop hammer. She has named her cart "The Choco Express"
Ad blocker interference detected!
Wikia is a free-to-use site that makes money from advertising. We have a modified experience for viewers using ad blockers

Wikia is not accessible if you've made further modifications. Remove the custom ad blocker rule(s) and the page will load as expected.