Confectionery Raceway
is fan game created by 
Sugarrushfan2
.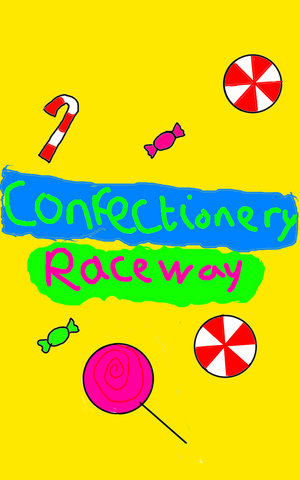 It is another version of Sugar Rush but with new characters, tracks, and much more.
Play as over 25 different characters and explore the world of Confectionery Raceway!
Modes
Code Mode
Challenge Mode
Creation Mode
Free Play Mode
​​​Characters
Starters
​Unlockables 
Code Characters
​Tracks
Jelly Bean Cup
Chocolate Gardens
Jelly Bean Jungle
Cookie Island
Frosty Rally
​Milkshake Cup
​​​Cotton Circuit
Rock Candy Mines
Gumball Gorge
Milkshake Mall
​Nougat Cup
Sherbet Beach
The Milkyway
Nougat Circuit
Caramel Mountain
​Soda Cup
The Castle
Woppleton Stadium 
Soda Falls
Mount Snowconia 
​Gingerbread Cup
Liquorice Meadows
Sugar Square
Hard Candy Factory
Gingerbread Speedway
​Peppermint Cup
Peppermint Palace
Starburst Express
Popcorn Park
Muffin Hills
Taffy Cup
Taffy Bridge
Oranges Pinball
Mousse Motorway
The Candyon
Battle Arenas
Piñata Ruins
The Jolly Ranch
Pie Plaza
Woppleton Stadium
Muffin Hills
 Tarts Manor
Power Ups and Weapons 
Flying Saucers
Bon Bon Bombs
Mutant Marshmallows
Liquorice Hurricane
Cotton Daze
More ​Coming Soon
Trivia
A sequel is possibly going to be made .
Some tracks will appear in Sweet Treat Racing.
Some of the tracks are also battle arenas too.
Credits
Though Sugarrushfan2 owns the game and majority of the characters , there are some that don't belong to her :
Monster High Vs Bratzillaz XD owns : Melissa Gummy-Goober , Pepster Von Schweetz , Goldy Charmlet , Gordon Charmlet and Evan Lee. Pinejuice.
Wreck-ItEve105 owns : Farri Rocher , Strawbetty Muttonfudge and Katrina le Dulces
Toffetia123 owns : Cadbetty Kracklebeanz
​Gallery
Ad blocker interference detected!
Wikia is a free-to-use site that makes money from advertising. We have a modified experience for viewers using ad blockers

Wikia is not accessible if you've made further modifications. Remove the custom ad blocker rule(s) and the page will load as expected.