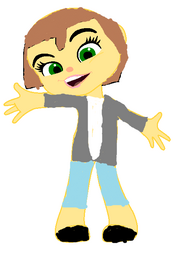 Courtney Vin Taffy is a fanon character. She is determined, active, and is hoping to find her destiny soon.
Friends and Enemies
Friends
Annie is probably Courtney's best friend right now.
Courtney kinda likes Roxus for being so risky. That's are her type.
Enemies
It was pretty obvious. Courtney HATES twizzer for being so evil.
Used to be in a relationship, but they seriously broke up.
Bio
Courtney Vin Taffy: Destiny Hunter
Courtney is sure to be a great leader someday. While being best briends with Annie, she wishes to take down Twisted Whiplash sometime. However, after that, she'll still have one goal: to find her destiny by any means nessecary.
Quotes
If I win TDSR Season 2, I'll release myself with integrity, honor, and I'll get 2 new pop machines for the cafeteria. Oh ****. I just mixed up 2 speeches.
(to Annie) Well there might be some- Nevermind.
(to the other racers while Vanellope is being bullied) WHO THE HECK STARTED THIS BULLY-FEST?
Trivia
She once beat up Taffyta for bullying Vanellope.
Courtney will be a contestant on TDSR season 2.
Ad blocker interference detected!
Wikia is a free-to-use site that makes money from advertising. We have a modified experience for viewers using ad blockers

Wikia is not accessible if you've made further modifications. Remove the custom ad blocker rule(s) and the page will load as expected.