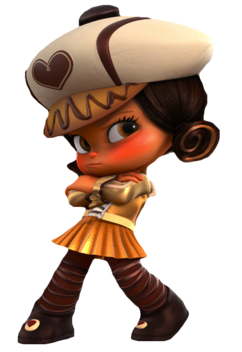 Crumbelina DiCaramello is a character from the game Sugar Rush. She is voiced by Cymbre Walk. Her candy theme seems to be based on various fancy and sophisticated desserts, most notably tiramisu, chocolate biscotti, and cannoli. Her signature kart is the Tira-Missile. On the online adaptation of Sugar Rush, she, Minty Zaki, Snowanna Rainbeau, and Candlehead are available from the start as racers. 
Official Bio
Crumbelina DiCaramello: Likes it Luxe
"With the exterior of a polished piece of peppermint, Crumbelina DiCaramello is the poshest racer in Sugar Rush. But when it comes to racing, extravagance and wealth doesn't distract DiCaramello; she considers herself as a down-and-dirty racer."
Official Stats
Speed - 70%
Handling - 60%
Candy Coating - 45%
Sweetness - 50%
Appearance
Crumbelina DiCaramello is a young girl with a terra cotta coloured complexion, honey/amber eyes, and deep brown hair that is pulled into tight buns on either side of her head. The curls of her buns have lighter streaks that seem to resemble cinnamon buns. She wears a beige racing cap that is drizzled with chocolate; the brim appears to be made of some sort of cookie. Crumbelina's jacket and skirt are of a latte hue, while her shirt is white with a chocolate filigree in the middle. Her leggings are a deep brown with darker stripes that match her boots with little red hearts on them surrounded by a dab of white frosting. Her racing outfit consists of her usual outfit, along with a white helmet with a brown heart on it, and a golden-yellow visor.
Trivia
Her name in the film and in the credits is Crumbelina Di Caramello, but is related to as DiCaramello in everything else.
She appears in Wreck-It Ralph films Sugar Rush Animated Series, and Sugar Rush 64.

Her plush smells like Mocha coffee.

In Wreck This Show!, she lives in Vanellope's home along with Adorabeezle Winterpop. However, she retires from being a racer and become a rookie police detective. She commands every police cybernoids like MetroCop and Detective Grip, but the only police cybernoid that is not belongs to Crumbelina is SirenShift.
Crumbelina may be the most mature of all the racers, due to her more sophisticated sweet theme.
She has two sisters and recolors:Oreoga Kendie Cane and Limme DiCaramello.
Gallery
Names in Other Languages
Language
Name
Meaning
Swedish
Smulan Di Caramello

"Smulan" means "crumble"

Polish
Chałwa Kruszonker
From "Chałwa" means "halvah" (Mid East dessert) and "Kruszonka" (polish coffee cake dessert)
French
Armelita Di Caramella
"Di Caramella" came from original "DiCaramello"
Japanese

クランベリーナ・ディ・キャラメロ

Kuranberīna Di Kyaramero

From English name
Brazilian Portuguese
Crumbelina Quebra-Queixo
"Quebra-Queixo" means "Jawbreaker"
Croatian
Trunkarinna Di Karamello
From "trunka" (crumb)
Russian
Карамельеза Монпансье
From "Карамель" means "Caramel" and "Монпансье" means "acid drop candy"
Turkish
Galetalı Karamel
From "galeta" (bread crumbs) and "karamel" (caramel)
Ukrainian
Кремовіна де Карамелло
From "кремовий" (creamy) and "карамель" (caramel)