"Don't move! You cannot pass on my sight.."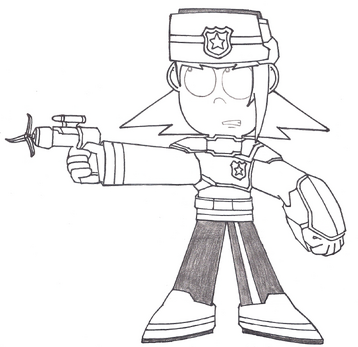 Detective Grip
(known as
Detective Grip Mk-II
or
Chief Detective Grip
) is an elite detective cybernoid who served as one of Crumbelina's trusted officer. He makes his first appearance in "Vanellope's Surprise".
Biography
Detective Grip: The defender of freedom and justice.
"Detective Grip is a law enforcement cybernoid that is exclusive in Wreck This Show!, and he's one of Crumbelina's most trusted officers. He's one of the six elite detectives who survived on his rival Detective Gutz. According to Dr. Element, he describes him as "honorable cop", indicating that he treats people in a rightful and respective manner.
Trivia
He is only appears in Wreck-It Ralph spinoffs as an exclusive cybernoid, but he does not appeared in any Cyber Hero series.
He is the second law enforcement cybernoid that was commanded by Crumbelina, the first being was MetroCop.
In Wrecking Show!, he wears a bulletproof vest.
In the English dub of Wrecking Show!, he did not pull off his gun while arresting someone instead he pull offs his badge.
He is one of the major cybernoids who got killed by Hail Cyber's freeze wave in Wreck-it Ralph 3, but he revived in Wrecking The Big Show as Detective Grip Mk-II.
He is the new chief of the Global Detective Force in Wrecking Heroes after the death of Detective Holt.
Quotes
"You're behanding in prison now!"
"Crooks, surrender"
"Nobody beat up as a detective"
"I am Detective Grip at your service"
"Let's roll!"
"Cover up!"
"Lock N Load"
"Serve the public trust, protect the innocent, uphold the law."
"Let Crumby go, you're under arrest"
"Don't bind the law!"
"Gutz, you have been failed to surrender yourself"
"Freeze! Is Detective Grip from the Grip Force! You have the right to remain silence. The things you will say may be used as evidence against you in court. You have the right to obtain a lawyer. Now you are now under arrest"
Gallery
Ad blocker interference detected!
Wikia is a free-to-use site that makes money from advertising. We have a modified experience for viewers using ad blockers

Wikia is not accessible if you've made further modifications. Remove the custom ad blocker rule(s) and the page will load as expected.