Ella Sugarcrystal

Some attributes

First
Female
Second
Sweet Racer
Third
Princess

Other attributes

Fourth
Kind
Fifth
Stylish

Ella Sugarcrystal is a racer in Sugar Rush. She was created by Pikachu4807, but she is now owned by Eagle flame369.
Backstory
Created by King Candy, she was placed in a secret part of the castle before Turbo arrived and took over the kingdom. Having little to no memory of what happened to her father, she continues to search for King Candy day after day. She is a princess, but nobody knows that except King Candy himself. But, her father sent her out into Sugar Rush right after they found each other to kill Turbo and Sweetiebelle.
Personality
Ella can be very can be very kind and caring. She can always help out her friends when needed. Ella has always treated people well, including her enemies. Being a princess can be tough, but she can handle most situations. But in secret, she's a bully, backstabber, and a rude person. Don't think that she can fool you.
Kart
Ella's kart is the Royal Mess. It was built in the Kart Bakery by Ella and King Candy before the invasion.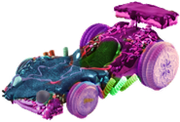 Gallery
Ad blocker interference detected!
Wikia is a free-to-use site that makes money from advertising. We have a modified experience for viewers using ad blockers

Wikia is not accessible if you've made further modifications. Remove the custom ad blocker rule(s) and the page will load as expected.