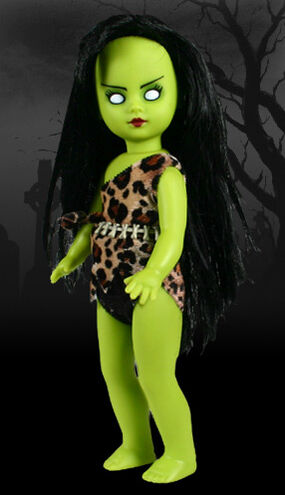 Envy (known as Eve by her friends) is a female racer in the Living Dead Raceaway (Game),she is brand new and will be opened in Killer Pixie Bay.
Death CertificateEdit
Eve believed the grass outside her jungle was much greener, So the happiness of all the other girls only made her meaner. But deep down in hell she no longer feels the jungle heat, For she is put in freezing water from her head down to her feet.
Biography
Envy:The drowning cave girl!
Poor little Envy did not want to die,she slipped over and drowned in the jungle river and died,all of the other cave children gasped in sursprise,when they found out Envy the lucky cave girl did not survive.Envy woke up with a startled sigh,and said Am I still alive? And if so why? but then Envy noticed she was dead,she let out a cry and a yelp and said I'm dead! then Envy heard an evil laugh,she turned around and saw Queen Creepy and Queen Creepy said Welcome to the world of the dead,my scary child friend!'
Envy's racing kart
The
Cavegirl's Nightmare
is yellow with red blood splatters all over it,and on it's four wheels and it's back bumper and a dark black spiderweb is on the back bumper attached to the racing kart aswell,it has Halloween decorations at the front and it black blood writing at the side it says
Dead
.
Memorable Quotes
MUST EAT CHICKEN LEG!
YUM!
CUTE BOY!
HOT HOT HOT HOT HOT!
Trivia
She has a crush on Francis Rainbowflipper.
She died from slipping and drowning in a jungle river near by her house.
Ad blocker interference detected!
Wikia is a free-to-use site that makes money from advertising. We have a modified experience for viewers using ad blockers

Wikia is not accessible if you've made further modifications. Remove the custom ad blocker rule(s) and the page will load as expected.