Gleatley Apertura

Some attributes

First
Female
Second
Scientist
Third
Inventor

Other attributes

Fourth
Cybernetic Being
Fifth
Intelligent
Sixth
Aperture Test Subject

Gleatley Apertura is a character created by Pikachu4807 .
Bio 
Gleatey was actually found by Wheatley in space, nearly dead and gasping for air. As she awoke from her long slumber in space, she was cybernetic and had amnesia, but she was literally connected to Wheatley so she wouldn't drift of. 
Wheatley then realized that Gleatley was a test subject for Aperture, a science facility on Earth. So, he treated her as if she was Chell, a former human friend of his.
Wheatley
Wheatley is an Intelligence Dampening Sphere, designed to calm down GLaDOS.
He found Gleatley floating around in space in a frozen escape pod. So, he made her a cyborg from the Space Core remains. And with this, Gleatley respected him as a friend.

GLaDOS
GLaDOS trained Gleatley to be the best test subject ever known, but that title was already taken by Chell. Thus, Gleatley respected GLaDOS as if she were her own mother.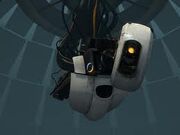 Kart
Gleatley invented a kart for advanced scientific methods, this kart is the Portal Core Speedster, it was designed by the Gleatley and the scientists of Aperture. 
Ad blocker interference detected!
Wikia is a free-to-use site that makes money from advertising. We have a modified experience for viewers using ad blockers

Wikia is not accessible if you've made further modifications. Remove the custom ad blocker rule(s) and the page will load as expected.