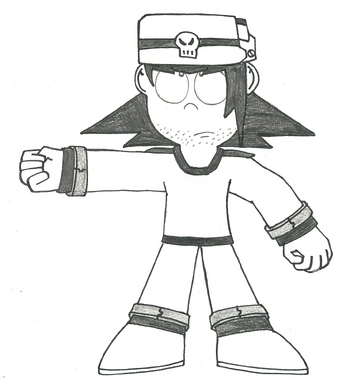 "I'LL CHEAT THEN I WILL CRUSH YOU!"
Gutz is a former police detective and Detective Grip's rival. He became jealous when Detective Grip got promoted as an elite detective when he was a rookie cop. He turned himself as Warden Cyber's right hand henchman. His appearance is sightly resembles Detective Grip, but with a black hair and in black and white uniform. He appears in the episode "Tales of the Fallen Cop" and he got revived by Beta Vanellope in the episode "Rivived!". He appears as a tertiarty antagonist and one of Flash-Time's henchmen in Wreck-it Ralph 2 and he returns in Wrecking Show! as "Gutz".
He appears in Wrecking the Big Show as a ghost along with the other villain ghosts (not including the one from Pac-Man) when Judgment Cyber's soul entering into the underworld of lost souls.
Biography
Gutz: Gaming Jailbreaker.
"Gutz is a notorious criminal in video game industry. Before he turn himself into a bad guy, he was a former detective who works along with Detective Grip before his partner owns by Crumbelina. As a rookie cop, he became jealous when Detective Grip got promoted as an elite detective then he got kicked out for being sensitive and aggressive to his friend. Later, he turn himself into an aggressive officer who caused every video game deaths in the arcade. Now Gutz was an inmate in the prison, but later on he escaped for his revenges.
Trivia
He is only appears in  as an exclusive cybernoid, but he does not appeared in any Cyber Hero series.
His uniform appearance is same as Detective Grip.
In recking Show!, he turn himself into a self-convict who causes every video game deaths in the arcade.
He is more dangerous than Turbo.
He is the most wanted video game villain in all games.
He is the parody of Rex Fury from LEGO City Undercover.
As a cadet, he treats other fellow officers and cadets with garbage. That's the reason why he got kicked out.
He supposedly to be killed in Wrecking Show! However, he was still in prison who got escaped by several revived previous cybernoid villains.
Quotes
"NOBODY CAN TRUST THE LAW!"
"BEAT THE GUTS"
"YOU'RE GUTS ME UP GRIP!"
"ENJOY YOUR TERRIBLE LIFE TO DEATH"
"I BELIEVE THAT I CAN TURN THE ENTIRE GAME INTO CRASH!! HA! HA!"
Gallery
Ad blocker interference detected!
Wikia is a free-to-use site that makes money from advertising. We have a modified experience for viewers using ad blockers

Wikia is not accessible if you've made further modifications. Remove the custom ad blocker rule(s) and the page will load as expected.