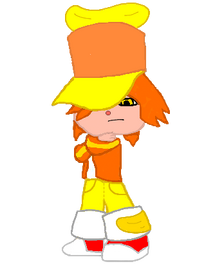 Hage McChips is a Fanon Character. He is a racer in the game Sugar Rush: New Generation. His theme is Salt Chips.
Character Bio
Hage is a cool, discrete, and nice guy. Hage's personlity is pretty alike Swizzle Marlakey, but Hage is even more discrete. 
He always ends a race in the highest places, which means he is a great racer, and has some very good stats.
Hage is nice to everyone, expect Strawbetty and Apozzer. He always tries to avoid the bullies.
Creation
Hage's design and creation, was made by Wreck-ItEve105. He was later adopted by Kactis-Hug.
Gallery
Trivia
He has a chip at the top of his hat, that also resembles his theme.
He seems to be the only racer to wear jeans.
He, along with Snugglez, Mark, Francis and Chris the only male racers in Sugar Rush: New Generation.
He is a contestant on Total Wreck Island. He placed 29th overall.
Ad blocker interference detected!
Wikia is a free-to-use site that makes money from advertising. We have a modified experience for viewers using ad blockers

Wikia is not accessible if you've made further modifications. Remove the custom ad blocker rule(s) and the page will load as expected.