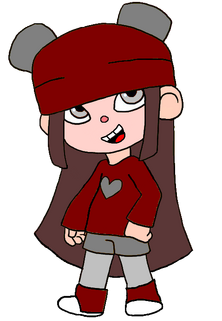 Heather Gumbears is a fanon. She's a bad girl but she never gets her way. She is currently looking for a way to get revenge on the other racers, and also look for a way to join the Sour Patches.
Bio
Heather Gumbears: The Bad Girl In Town
Although she may look like Claire Gummy-Goober, she is the meanest racer and will always be the meanest. She may recruit the Sour Patches soon and will get all the help she needs.
Friends and Enemies
Friends
The Sour Patches
Lindsay Creamycone
Beth Whippycream
Alejandro Von Donutz
Enemies
Trivia
She will be on TDSR Season 2.
Ad blocker interference detected!
Wikia is a free-to-use site that makes money from advertising. We have a modified experience for viewers using ad blockers

Wikia is not accessible if you've made further modifications. Remove the custom ad blocker rule(s) and the page will load as expected.