Isabella Rainbowglitter is a talented racer in Sugar Rush Schweetzway, and she is Candace Peppermint-Candy's good friend. Her theme is rainbow cake. She is similliar with Taffyta Muttonfudge from the game Sugar Rush.
Appearance
Isabella is a young girl with fair skin, "NO rosy cheeks" (her theme is almost close to rock&roll) ,colorful rainbow hair with black and blond sides. She wears a teal hat with purple dots, a teal hoodie, and teal shoes. Her theme is based on rainbow cakes, but teal and purple color is added too.
Biography
Isabella Rainbowglitter: Glitters everywhere!!
"Isabella was possibly a glitter fan. Her stuffs are all glittery and totally rainbow. More than 1,000 glitters
stick on her stuff!!"
Story
She was first seen in the Rainbow Forest, by Candace and all racers were found at different places before they become one sweet group. Isabella, based on her theme, she is sweet sometimes but very very a rock&roll girl with "I don't care" words.
She and Taffyta Muttonfudge doesn't hate each other (Isabella's face, outfit, and shoes are taken from Taffyta's), and also friends. However, Isabella's star was added by Candace after she's a talented racer.
Quotes
"AW, those were spices!!!!!"
"Rock and roll rocks!!"
"Duhh glitchie!"
"Muahahaha do you have some rainbow cakes to get?"
"MISS MUTTONFUDGE, whaddamuttonfudge is that!?"
"Glitter rocks!!"
"Oh yeah! You a rockin' people finally hahaha!"
"Maybe you should step back out of my way, you diaper baby!!"
"What the heck?"
"Ha ha ha,,,"
"Oh yea, these sweaters won't work."
Race Kart
Isabella's kart is The Glittery Lightning. It's all glittery and similliar withTaffyta Muttonfudge's racing kart, the Pink Lightning.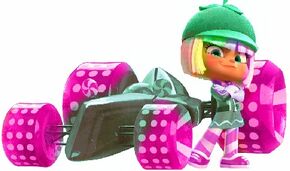 Trivia
Her name, and a racer's name from a fanfiction called City Of Love may be taken from a Phineas and Ferb's character named Isabella Garcia-Shapiro.
She is created by VanellopeVonSchweetzFan.
Her animation format style and racing kart was created with PicMonkey, but for her final design, the user uses Paint.
Her animation format style was only a recolor of Taffyta Muttonfudge.
Her painted racing kart was dark purple and bright purple, but when it comes on animation, it becomes bright purple and teal.
Her edge hair was black, but when it was recolored, it becomes bright / shocking pink for the first, but for the redone her edge hair was blond but highlighted black.
Ad blocker interference detected!
Wikia is a free-to-use site that makes money from advertising. We have a modified experience for viewers using ad blockers

Wikia is not accessible if you've made further modifications. Remove the custom ad blocker rule(s) and the page will load as expected.