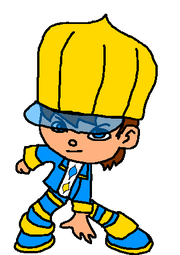 Jackpeed Candyletric is a Fanon Character, he's the twin brother of Blupmon Twist. His signature kart is the Electromango.
Character Bio
Jackpeed is a cool boy, he likes to hang out with the cool racers, and with his sister. He mostly hangs out with his sister, Grenny, Jenny and other racers.
He's a good racer, he has an incredible speed, he has an impressive turbo of electricity, he's also a bit better racer then Blupmon.
Creation
Jackpeed's creation was made by Wreck-ItEve105, but Citrusella Flugpucker helped on the new redesign.
Gallery
Trivia
Jackpeed will appear in a project called Sugar Rush Highway.
Jackpeed will appear in another project, called Sugar Bang!.
His name seems to be a pun of the name Jack, and speed.
He'll appear in a fan game called Sweetie Rush.
He is a contestant on Total Wreck Island.