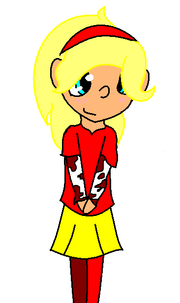 Jenna Jammydodge is a fanon racer created and designed by Sweetellope.
She is kind,and rarely wins races but has a good heart and a determind attitude.
She will be in an upcoming fanfiction,which doesnt yet have a title
Character Bio
Jenna Jammydodge: Sweet but slow speedster!
Jenna is a girl who is nice to everyone on track,even the bullies.
She isn't very popular among the other racers,but likes to think that everyone is her friend.
Personality
Jenna can be best described as overly nice.She has a sweet attitude and likes to act like everyones big sister!She is 9,and one of the oldest racers in her game.Although she is the oldest,she is still the slowest yet most enthusiastic racer.Jenny isnt the best racer on the track but that wont stop her from winning!
Trivia! 
Jenna's theme is Jammydodgers!

Her orginal name was going to be Jammina..but it was changed.

She has a secret crush on Perry Cornpop.

She wants to be a better racer,and practices everyday

Her quote is, 'I can be the best racer..i'll show you!'
Ad blocker interference detected!
Wikia is a free-to-use site that makes money from advertising. We have a modified experience for viewers using ad blockers

Wikia is not accessible if you've made further modifications. Remove the custom ad blocker rule(s) and the page will load as expected.