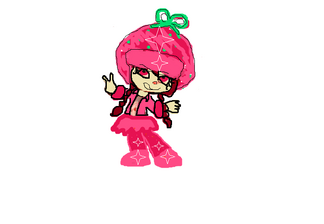 Jessie Pinkfrozen is a racer in Sugar Rush Schweetzway and the sweetest girl ever there. Her theme is pink guavas. She is very similliar with Jubileena Bing-Bing from Sugar Rush. Her level is behind Citry Lemongums.
Appearance
Jessie looks like a 11 years old girl, with fair skin and brown hair. She wears a pink helmet, pink jacket, white t-shirt, pink skirt, and pink shoes. Everything is pink!
Biography
Jessie Pinkfrozen: Not So Freezing
"Her name has 'frozen' word, but she seems so lucky in pink guava juices. Her smell is not 'cold', but just based on juicy drinks. It means that she is not so freezing!"
Story
Candace doesn't give a name for her, but Candace thinks it goes by itself, maybe from a movie. She thinks and thinks again... aha! It's from Jessie Toy Story.
Jessie was a shy person, but rocks too. She wears a "wonderful ever" helmet that really really rocks. But, her helmet looks like Turbo's helmet, but she doesn't act sooo crazy just like Turbo. She is friends with anyone but she don't care her shy feeling. She is friends with Candace, Citry, and Jubileena, of course. Both she and Jubileena own the same pose for the game to play. Well, one missing thing, she only have 2 quotes, but she thinks that is great. Just because of her shy feeling she doesn't get more quotes and missing thing.
Quotes
"Oh my gosh I love that thing!"
"What the heck in the world is it!?" "WOAH!"
Race Kart
Jessie's kart is the Pinkerriot. It looks like a new invention, it's guava pie. It's similliar with Jubileena's kart.
This kart that is owned by Jessie is animation format, and just used.
Trivia
Like Jubileena Bing-Bing, she has only 3 catchphrase for the plot.
She is created by VanellopeVonSchweetzFan.
Jessie is planned to be similliar with Jessie from Toy Story, but her pose makes her similliar with Jubileena Bing-Bing.
Her kart, the Pinkerriot, was named simple like the other racers except Candace Peppermint-Candy that own a kart that is named with two candy words.
Her helmet may be similliar with Taffyta Muttonfudge's.
Ad blocker interference detected!
Wikia is a free-to-use site that makes money from advertising. We have a modified experience for viewers using ad blockers

Wikia is not accessible if you've made further modifications. Remove the custom ad blocker rule(s) and the page will load as expected.