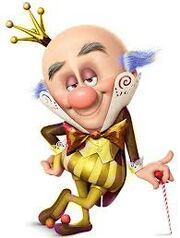 King Blue Cheese is a male racer in the brand new game Cheeseworld Speed-Up.His theme is Blue Cheese.
His theme
His theme is Blue Cheese,a moldy but eatable cheese,with lumpy of eatable blue veins.
Trivia
King Blue Cheese was the leader of the Cheese Speed-Up game,but he gave the leadership place to his neise Cheddarmiah Von Crumble.
King Blue Cheese is not a hacker,or any kind of Turbo in disguise,unlike King Candy.
Ad blocker interference detected!
Wikia is a free-to-use site that makes money from advertising. We have a modified experience for viewers using ad blockers

Wikia is not accessible if you've made further modifications. Remove the custom ad blocker rule(s) and the page will load as expected.