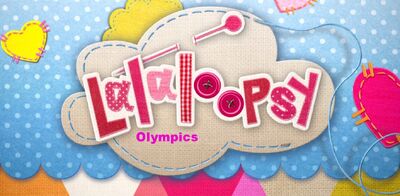 Lalaloopsy Olympics is a brand new game in Litwacks Arcade.The creators wanted to do a sweetie-themed Olympics game,but Sugar Rush got plugged in before the Lalaloopsy Olympics.
Playable characters
Boys
Patch Treasurechest Pete R. Canfly Prince Handsome 
Girls
'Alice in Lalaloopsyland'April Sunsplash
Baley Sticks N. Straws (Mini) Bea Spells-a-Lot'Berry Jars 'N Jam'Blanket Featherbed (Lalaloopsy Littles) 'Blossom Flowerpot'Bubbles Smack 'N' Pop (Mini)Bun Bun Sticky Icing (Mini) Bundles Snuggle Stuff (Lalaloopsy Littles)
'Candy Broomsticks (Mini)Cake Dunk 'N' Crumble (Mini)Charlotte Charades'Cherry Crisp Crust (Mini) Choco Whirl Swirl (Mini) Cinder Slippers Cloud E. Sky Confetti Carnival Coral Sea Shells Cotton Hoppalong (Mini) Crumbs Sugar Cookie Curls N Locks (Mini)
Dollop Light 'N' Fluffy (Mini)Dot Starlight Dotty Gale Winds (Mini)Dyna Might
Fairy Fern (Lala-Oopsies) Fairy Daffodil (Lala-Oopsies) Fairy Lilac (Lala-Oopsies) Fairy Tulip (Lala-Oopsies) Fancy Frost 'N' Glaze (Mini)Feather Tell-a-Tale
Haley Galaxy'Harmony B. Sharp'Holly Sleighbells
Jelly Wiggle Jiggle (Mini)Jewel Sparkles
Kat Jungle Roar Kiwi Tiki Wiki (Lalaloopsy Littles) Kitty B. Brave (Mini)
Lady Stillwaiting 'Little Bah Peep'Lucky Lil' Bug (Mini)
Mango Tiki Wiki'Marina Anchors'Mint E. Stripes Misty Mysterious Mittens Fluff 'N' Stuff
Peanut Big Top 'Peggy Seven Seas'Pepper Pots 'N' Pans 'Peppy Pom Poms'Petal Flowerpot (Lalaloopsy Littles) Pickles B.L.T.'Pillow Featherbed'Pita Mirage (Lalaloopsy Littles) Pix E. Flutters'Prairie Dusty Trails'Princess Anise (Lala-Oopsies) Princess Juniper (Lala-Oopsies) Princess Lavender (Lala-Oopsies) Princess Nutmeg (Lala-Oopsies) Princess Saffron (Lala-Oopsies) Princess Sesame (Lala-Oopsies) Pumpkin Candle Light (Mini)
Red Fiery Flame (Lalaloopsy Littles) Rosy Bumps 'N' Bruises
'Sahara Mirage'Sand E. Starfish Scarlet Riding Hood Scoops Waffle Cone 'Scraps Stitched 'N' Sewn 'Scribbles Splash (Lalaloopsy Littles)Sherri Charades (Lalaloopsy Littles) 'Snowy Fairest'Specs Reads-a-Lot (Lalaloopsy Littles) Sprinkle Spice Cookie (Lalaloopsy Littles) 'Spot Splatter Splash'Sprouts Sunshine (Mini)Squirt Lil Top (Lalaloopsy Littles) Stumbles Bumps 'N' Bruises (Lalaloopsy Littles) Sugar Fruit Drops (Mini)Sunny Side Up Suzette La Sweet Swirly Figure Eight
Teddy Honey Pots Tinny Ticker (Mini) Tippy Tumblelina Toffee Cocoa Cuddles'Toasty Sweet Fluff (Mini)Tricky Mysterious (Lalaloopsy Littles) Trinket Sparkles (Lalaloopsy Littles) Trouble Dusty Trails (Lalaloopsy Littles) Tuffet Miss Muffet (Mini)Twinkle N. Flutters (Lalaloopsy Littles) Twist E. Twirls (Mini) Twisty Tumblelina (Lalaloopsy Littles)
Whiskers Lion's Roar (Lalaloopsy Littles)
Olympic Games
Running
Acrobatics
Swimming
Diving
Tennis
Fencing
Dressarge
Football
Go-karting
Basket Ball
More Olympic games coming soon...
Trivia
The Lalaloopsy Olympics was Originally meant to be called the Bitty Buttons Olympics.
Ad blocker interference detected!
Wikia is a free-to-use site that makes money from advertising. We have a modified experience for viewers using ad blockers

Wikia is not accessible if you've made further modifications. Remove the custom ad blocker rule(s) and the page will load as expected.