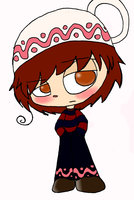 He is the kind of guy who is all work and no fun. He's often very serious and realistic, but isn't afraid to give good advice to the few friends he has and those who visit his Coffee Shop within the Candy Cane Forest. He's often very negative, and doesn't generally like to be social with other people. His hobbies are serving/making coffee at his store. His candy theme is Coffee and doesn't really have an official kart and gave up racing sometime ago. And that's Latte Mocha. 
Biography
Latte likes to live his life by himself.
Trivia
His fans are antropomorhic toffee candy wraps.
His plush is mochaccino scented.
Gallery
Names in other Languages
Language
Name
Meaning
Brazilian Portuguese
Leitônio Mocha
From "leite" (milk)
Russian
Кофий Молоккю
From "кофе" (coffee) and "молоко" (milk)
Japanese

ラッテ モカ

Ratte moka

From English name
Ad blocker interference detected!
Wikia is a free-to-use site that makes money from advertising. We have a modified experience for viewers using ad blockers

Wikia is not accessible if you've made further modifications. Remove the custom ad blocker rule(s) and the page will load as expected.