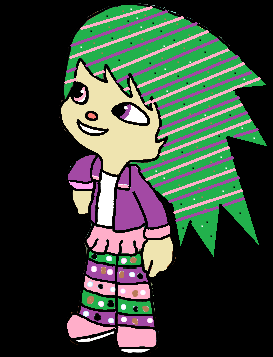 Li-Cinty Yummabopple
is a fanon character.
Character's Bio
Li-Cinty is a simple girl, and she likes to hang-out with friends. She is very nice and hates to argue.
Idea
She is based on Liquorice sticks and Mint chip ice cream.
Trivia
Creation
Kart/s
The Cool Sensations
The Sweet Victory
Item/s
Relationships
Stats
Handling - 95%
Candy Coating - 83.5%
Speed - 85%
Sweetness - 83.5%
Note
If You Have Any Reactions Please Do,
Comment Your Suggestions and Reactions :D Thank You Friends!
Gallery
Ad blocker interference detected!
Wikia is a free-to-use site that makes money from advertising. We have a modified experience for viewers using ad blockers

Wikia is not accessible if you've made further modifications. Remove the custom ad blocker rule(s) and the page will load as expected.