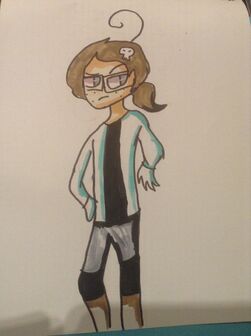 Lilith Golgotha is a competitive 14 year old racer she is also a traveller she loves to hang out with other characters in Game Central Station she doesn't like dresses and makeup.
Bio
Lilith Golgotha: Sweet?Sour?Both! 
Lilith is sometimes negative and sometimes positive.She is known to be crazy and sarcastic she likes making fun of her three step brothers and mocking her cousin.After a race she hangs out with her friends and cousins or sometimes she could be alone in her room spending her time drawing and listening to music. 
Quotes
Is it over?
No I am not!
Uhhhh say what now?!
You look pretty!
Don't make me kill you!
Its Sarcasm!
Give me your handprint first!
Oh this is the key to the jukebox.
Do I look like I care?No I don't!
No I don't wanna wear a dress!!
Wooohooo!!Party Time!!!
Trivia
Her theme is Licorice and Skull Candies
She loves roleplaying.
She is a character for two games(Homestuck and Sugar Rush).
She likes skirts.
Her tier is Prince of Void.
She loves music.
She loves saying kill as her threat
Theme Songs
Gallery
Ad blocker interference detected!
Wikia is a free-to-use site that makes money from advertising. We have a modified experience for viewers using ad blockers

Wikia is not accessible if you've made further modifications. Remove the custom ad blocker rule(s) and the page will load as expected.