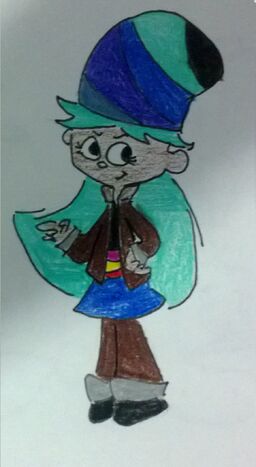 Liquorishee is a smart girl that never give up of your potentials. She loves bowling and travel to other Sugar Rush Countries, because she likes to know more about other countries. Her candy themes are assorted liquorishes and the candy "York". Her kart signature is the Assorted Kart. This character has been created by the user Toffetia123.
Biography
Like Snowanna, she loves rainbows. She also loves to go to the beach in the the Fall, but she hates the Winter. That's because she's also Adorabeezle Winterpop's worst enemy. She has her personal track to train for the Race, that is also a famous track. Her kart, isn't a normal kart like the other karts. Her kart is a type of Ice Cream Sandwich, with Liquorish wheels.
She is a racer from the Sugar Rush Africa, by her "browny" skin. Her personal track is made of Brownies, Profiterols and taffies. She also helped Vanellope, building her new castle. 
Status
Speed: 95%
Sweetness: 60%
Handling: 50%
Special Power: Assorted Way
Trivia
Her fans are assorted liquorishes.
Her plush is liquorish scented.
Gallery
Names in other Languages
Language
Name
Meaning
Brazilian Portuguese
Alcaçúcar Sortidos
From "alcaçuz" (liquorish) united with "açúcar" (sugar) and "sortidos" (assorted)
Russian
Лакричкя Тоффи
From "лакрица" (liquorish) and "тоффи" is a transliteration of (toffee)
Italian
Gommalenna Masticatutto
From "gomma" (gum or gumdrop) and "mastica" (chew) united with "tutto" (all)
Japanese

リコリシー ジョヨーク

Rikorishī joyōku

From English name
Ad blocker interference detected!
Wikia is a free-to-use site that makes money from advertising. We have a modified experience for viewers using ad blockers

Wikia is not accessible if you've made further modifications. Remove the custom ad blocker rule(s) and the page will load as expected.