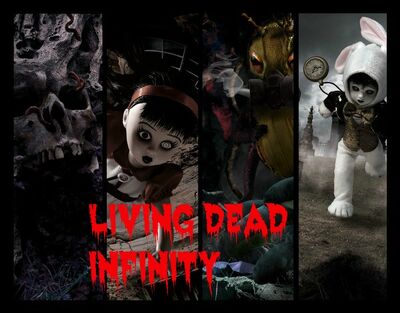 Living Dead Infinity is a Living Dead Raceaway version of Disney Infinity ,it is very similar,but in it's own way is very different.It is about going through many levels and doing tasks and fighting bosses.
Levels
Skull Cave
Eye-Socket Quarter
Corpse Tooth Quarter
Deathland
Evil Mad Hatter's Tea Party
Red Queen's Haunted Castle
Spooks Hill
Monster Side
Ghost Side
Haunted Ice-Rink
Ice Rink of Blood
Ice Rink of Guts
Demon Funfair
Freaky Ferris-Wheel
Creepy Carrosel
Mirror house of horror
Roaring Rollercoaster
Teacups of terror
Characters
Betsy
Jennocide
Frozen Charlotte
Posey
Dee
Catrina
More coming soon...
Trivia
Betsy and Jennocide's figures for the game are really rare.
Chello is not a playable character.
You can play as certain recolours.
Gallery
Ad blocker interference detected!
Wikia is a free-to-use site that makes money from advertising. We have a modified experience for viewers using ad blockers

Wikia is not accessible if you've made further modifications. Remove the custom ad blocker rule(s) and the page will load as expected.