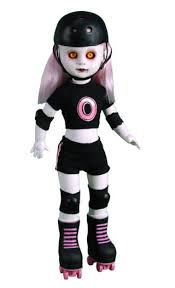 "Racing for the roaring fans!"
―Her catchphrase
Lulu is a brand new racer in Horror Dash.She is a drama queen at times & very possesive.
Death Certificate
She skated towards the concrete stairs, Hearing the many shouted dares. Then she tumbled straight to Hell, Into her own little grave our dear Lulu fell.
Biography
Lulu:Skating towards her grave!
Lulu was doing her normal skating,when she skidded into the wrong direction & fell to her death,her body shattered & her right leg snapped,she woke up on the Horror Dash starting line & was ready to race her socks off.
Personality
Lulu is quite self-centered,but not rude.She can sing really well.She is quite mysterious & competitive.
Trivia
For some reason,her Living Dead Infinity figure shares a totally different apperance than her in Horror Dash.
She is possibly going to have a younger sibling in the Living Dead Raceaway 2.
It is pointed out that Lulu loves skating more than racing.