Marva Rita Burgunilla is a fanon character, and a racer in Sugar Rush: New Generation.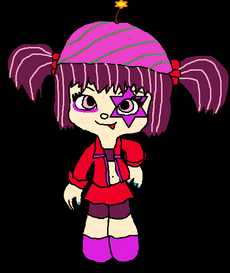 Character's Bio
Marva Rita is a wicked but true person. She likes to party all night with friends. Sometimes she gets angry when nobody catches her attention.
Idea
She is based on Margarita, Burgundy and Vanilla.
Trivia
Creation
Kart/s
The One Night Stand
The Whoopa
Item/s
Relationships
Stats
Handling - 35%
Candy Coating - 65%
Speed - 75%
Sweetness - 55%
Note
If You Have Any Reactions Please Do,
Comment Your Suggestions and Reactions :D Thank You Friends!
Gallery
Ad blocker interference detected!
Wikia is a free-to-use site that makes money from advertising. We have a modified experience for viewers using ad blockers

Wikia is not accessible if you've made further modifications. Remove the custom ad blocker rule(s) and the page will load as expected.