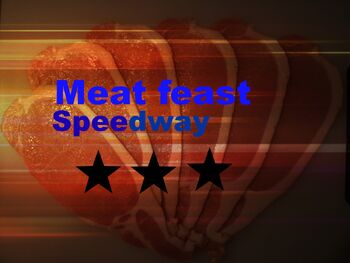 "'Things have just got meaty...'"
―Narrator
Meat feast speedway is a brand new meat version of Sugar Rush.The Sugar Rush and Meat feast citizens hate each other,but the racers are friendly and some befriend the Sugar Rush racers.
Racers
Barbie Que
Ronald Chicken
Turisha Turkia
Becky Con
Laurasagne
Suzie Sausage
Porka Chops
Beefy Billy
Garrath Gammon
Meatbelle
Honey Ham
Sallilami
Pappar Roni
Bob Mcburger
Brenda McBurger
Code
Lambhead
Duckabella
Coral Currianna
Unlockable
Tabeetha
Harry Hotdogz
Gooseena
Kasey Babs
Steaktia
Pearl Porkanna-Piez
Charity Roll
Prince Griddlers
Meatdonna
Rare Coded
Belle Que
Mickey McDonalds
Tracks
Bacon Forest
Gammon Ralley
Chicken Gorge
Turkey Town
Sauage Street
Creations
Gallery
Ad blocker interference detected!
Wikia is a free-to-use site that makes money from advertising. We have a modified experience for viewers using ad blockers

Wikia is not accessible if you've made further modifications. Remove the custom ad blocker rule(s) and the page will load as expected.