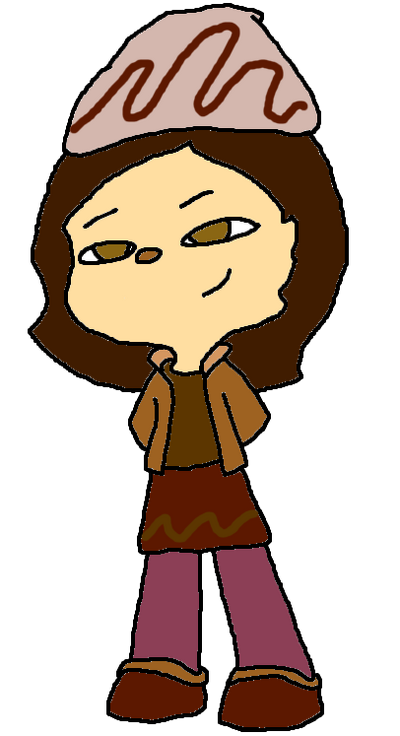 Another adorable and refined character is in Sugar Rush. Friend of Vanellope and sister of Ice Brownkers. Her candies themes are Moccacinos and Chocolates. Her kart signature is the Eclarikart. She's the new character in Sugar Rush Universe. 
Biography
A new racer is in the area!
She has a good "taste" about candies styles. To her, the world isn't to fast or to slow.
Status
Speed: 50%
Sweetness: 60%
Handling: 85%
Special Power: Lollipop Hammer
Trivia
By her italian candy theme, she's cousin of Crumbelina Di Caramello.
Mocca's original name was "Cappucinnamon Kokolatte".
She has more than 3 karts.
Her fans are caramel wraps.
Her plush is cocoa scented.
Gallery
Foreign Names
Language
Name
Meaning
Japanese

モカークレア キャラメラッテ

Mokākurea Kyarameratte

From English name
Polish
Chałwa Cukierkka
From "kawa" (coffee) and "cukierki" (candy)
Russian
Маслегкия Кармеллю
From "мягкий" (soft) and "карамель" (caramel)
Swedish
Kåffeena Göndten
From "kaffe" means "coffee" and "godis" means "candy"
Finnish

Sokoläänam Nësttetäämi

From "suklaa" means "chocolate" and "nestettä" means "liquid"
Bulgarian
Пандишккам Кокоавен

"пандишпан" means "sponge cake" and "какао" means "cocoa"

Dutch
Baeketta Mokkary
"beker" means "cup" and "mokka" means "mocha"

Norwegian

Drikkær Kåffæholdøggen
"drikke" means "to drink" and "koffeinholdige" means "caffeinated"
Ad blocker interference detected!
Wikia is a free-to-use site that makes money from advertising. We have a modified experience for viewers using ad blockers

Wikia is not accessible if you've made further modifications. Remove the custom ad blocker rule(s) and the page will load as expected.