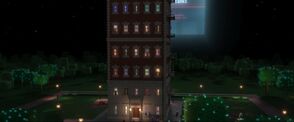 Niceland
is a town within the game "
Fix-It Felix, Jr.
" where
Wreck-It Ralph
,
Fix-It Felix, Jr.
, and the
Nicelanders
live from the
Wreck-It Ralph franchise
. The town was nearly unplugged by Ralph's quest to gain a medal of his own.
Places of interest
The Apartment: A large apartment building where the Nicelanders and Felix reside. The penthouse of the building is known for hosting parties, such as the party for the game's 30th anniversary.
The Dump: Where Ralph sadly lived until he turned it into some homes for himself, Q*bert and his friends, as well as other homeless video game characters. (with some help from Fix-It Felix) During the finale, the dump was renamed East Niceland.
The Forest: The forest that surrounds the whole game.
The Trolley: The Trolley that serves as a transport from Niceland to Game Central Station and back.
Gallery