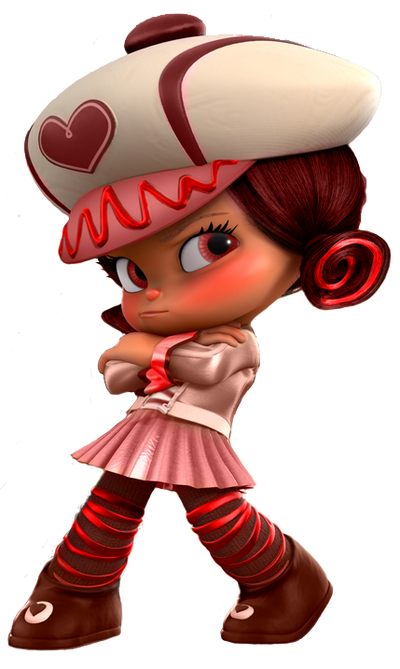 Oreoga is more than a good racer, she is a spy. Her hobbies are spy the other racers, because she wants to know best ways to win the other racers. Her candy themes are Oreos, Candy Canes and Marshmallows. Her kart signature is the Shpark Kannon.  
Biography
Oreoga: An Infinite Boost of Determination
She is one of the best racers in Sugar Rush. When she has a free time, she likes to make new music to her band:"The S-U Gars". No one can handle this girl, she is very proud. She also loves astronomy and archeology. She has the highest grades in "History" in the Sugar School.
Status
Speed: 100%
Sweetness: 50%
Handling: 30%
Special Power: Mixed Essence
Gallery
Names in other languages
Language
Name
Meaning
Russian
Полосасный Шокколатис
From "полосы" (stripes) united "красный" (red) and "шоколад" (chocolate)
Japanese

オレオガ キェンディー ケンー

Oreoga kyendī ken̄

From English name
French
Oreoga Crèeme Bisceaût
From "Crème" (cream) and "Biscuit" (cookie) united "Gateaû" (cake)
Finnish
Purskellää Karkunnen
From "pureskella" (to chew) and "karkku" (cake)
Trivia
She has a different name, but she is Crumbelina's sister and Moccaclair's sister too.
She has more than 6 trophies, but she wants to win more.
She is another recolor of Crumbelina.