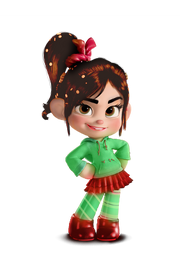 Official Bio
Pamellope Pon Szheets: Peppermint In The Sunshine
Pamellope is a young kiddo with a big heart. She is sad untill Kicica Koliko   met her. They stayed friends till they met Gloyd. Now that she's not alone, with 17 racers to be friends with, she is a peice of peppermint in the sunshine.
Appearance
Pamellope is a girl with fair skin, brown hair, green hoodie and unmached leggings.One of them is striped white and green, the other one with a pink thin line in the middle of each white stripes.She wears a red mini double decker muffin skirt, and red boots with soles patterened with red buttercream icing. She seems to repersent peppermint rock, choco sprinkles, Her hair is tied with licorice, and she has a touch of lip gloss.
Quotes
Ad blocker interference detected!
Wikia is a free-to-use site that makes money from advertising. We have a modified experience for viewers using ad blockers

Wikia is not accessible if you've made further modifications. Remove the custom ad blocker rule(s) and the page will load as expected.