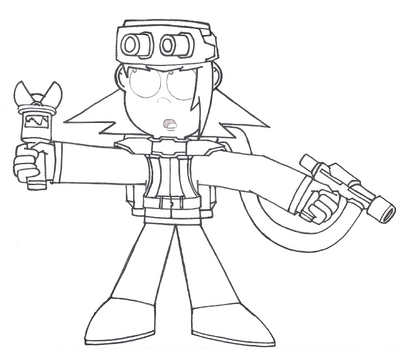 "Who you gonna call! It's time to bustin' out of ghosts"
Paranormal Cyber is a cybernoid who specialized ghost hunting. He is also commanded by Vanellope during ghost hunt mission with Cyber Guy.
Biography
Paranormal Cyber: The Ghost Hunting machine
Trivia
His appearance was inspired by Ghostbusters.
He was mentioned in Wreck This Show! episode "Candycorn Ambush" then he has a cameo appearance in "Old Content, New Monarc" as one of the heroes who save the arcade.
He has his own arcade game at Litwaks called "Paranormal Squad", a parody of The Real Ghostbusters arcade game.
His quote is referenced to Ghostbusters theme song.
His uniform color will be either deep blue or navy blue rather than tan.
In Sugar Rush: Good Night Sleep Tight Racers, he saves both Gloyd and Pac-Man from Clyde then he sucked up the remaining lemondrops and gumdrops.
He is referred as "Ghost Buster" which is referenced to Ghostbusters.
Quotes
Gallery
Ad blocker interference detected!
Wikia is a free-to-use site that makes money from advertising. We have a modified experience for viewers using ad blockers

Wikia is not accessible if you've made further modifications. Remove the custom ad blocker rule(s) and the page will load as expected.