Pinkie Dubblebubble
is a fan made racer. She is a pink version of Crumbelina.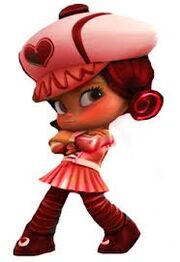 Biography
Pinkie Dubblebubble: Double Sweetness
"Pinkie Dubblebubble is a kindhearted loving person who loves to win races. She likes to help others win races. Her racing skills show off her competitive and skilled ideas. Pinkie is Double the fun."
Trivia
It is unknown who made her or what she is based off of.