Piper Mint pronounced Pippa Mint is a character made by HatB123, she is based on Vanellope because she is a glitch, but she looks nothing like Vanellope, her candy theme is peppermint, and her first kart is called the mint kart, (similar to likkidy split), and her second kart is called the minty kart similar to the candy kart.
Apearance
Piper Mint wears a blue blazer, with a yellow top, and a blue skirt, her tights are yellow with blue stripes on. Piper also wears blue shoes. She has yellow hair that is in long curly pigtails, with blue bows.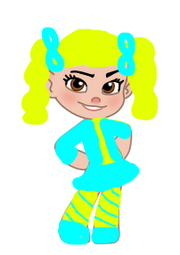 Official Bio
Piper Mint is the glitch in the game and she is not very popular she is bullied from Melonie De Sweet, Jessie Bean and Lemony Sour Sweets. But in the end she is the best racer, and she ends up bieng the princess of sugar rush.
Official Stats
Speed-100%
Handling-100%
Candy coating-100%
Sweetness-100%
Personality
Piper Mint has a razer sharp tongue, but a sweet center just waiting to be revealed. She and Lilly Pop are secretly best friends, but even though Melonie and the other bullies don't know that, they bully anyone who doesn't bully Piper. Al of the other racers except Lilly gang up on her, and destroy the mint kart, them Lilly tried to help her put it back together, but they couldn't do it, so Lilly helped Piper make a new kart at the bakery.
The Mint Kart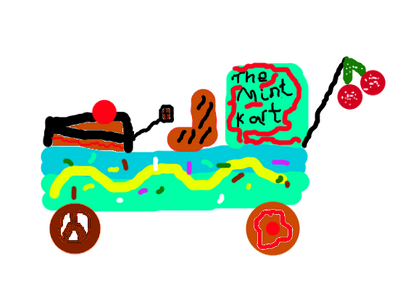 Drawn b
y HatB123 on Gimp 2.6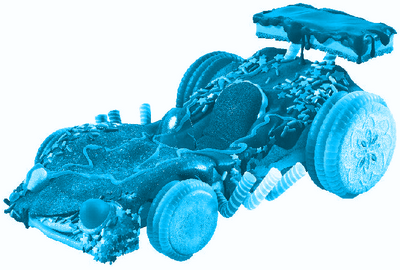 The Minty Kart
Colourized by HatB123 on gimp 2.6
Ad blocker interference detected!
Wikia is a free-to-use site that makes money from advertising. We have a modified experience for viewers using ad blockers

Wikia is not accessible if you've made further modifications. Remove the custom ad blocker rule(s) and the page will load as expected.